Home

Bill Bartlett and Mary McNally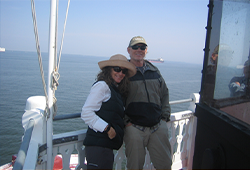 Leaving a Lasting Legacy
After learning about how closely CBF's work aligns with their interests, Bill Bartlett and Mary McNally were inspired to make a generous legacy gift to the Our Bay, Our Legacy campaign.
Bill Barlett's connection to the Chesapeake Bay has always been interwoven with his relationship to his father. Although Bill currently lives in San Luis Obispo, California, with his wife Mary McNally, the Maryland native spent his childhood summers learning how to sail with his dad on the waters of the Bay. Bill's father also accompanied him on education trips with CBF to Smith Island and Fox Island when Bill was a young teenager, where the father-son duo continued to make memories as they explored the estuary by canoe.
"The Chesapeake was part of the connective tissue between me and my father," Bill explained. "It was something that really brought us together."
For Mary, who grew up in California, her love for the Bay is more of a newfound appreciation-and it came about in an unexpected way. In 2020, the couple was devastated to learn that Bill had cancer. They traveled to Maryland for treatment, and while Bill recovered from complications for several months, they explored a variety of parks and other natural spaces connected to the Bay. It didn't take long for Mary to become enamored with its beauty.
At the same time, the couple began thinking seriously about plans for their trust. Bill, who is in his early 60s, and Mary, in her late 50s, had considered their estate plans in the past, but Bill's diagnosis prompted them to move more quickly.
"It's never too early to finalize your plans for your estate," Mary urged. "It's easy to put it on the back burner at our age, but Bill's health scare gave us perspective."
As Bill and Mary researched the environmental organizations they wanted to support, it quickly became clear that the Chesapeake Bay Foundation-whose name they had seen time and time again on signage while exploring the area-was a natural fit for their interests. They were impressed that CBF's work aligned so closely with their specific passions, including clean water, marshland restoration, barrier protection, oyster reef restoration, regenerative agriculture, and supporting women and minorities.
"CBF is like a one-stop shop for the environmentalist philanthropist," Bill said.
"The more I learned about CBF's work, the more I felt it dovetailed our environmental interests with Bill's longstanding appreciation of the Bay," Mary added.
Bill and Mary were inspired to give to CBF and made a generous legacy gift to the Our Bay, Our Legacy campaign, which aims to secure new planned gift commitments to power a future of clean water and a healthy environment for all.
For Bill, the story of his love for the Bay has come full circle. While he was recovering from treatment in 2020, his father's health began to decline rapidly. He passed away in January 2021 at his home in Annapolis-and Bill was by his side through it all, right next to the Bay that had played a central role in their relationship.
"It was a difficult time for us, but out of that was borne a newfound appreciation for the Bay," Bill explained. "It was a gift to be there at that time for my dad, and to reconnect with the Bay that brought us together."