Home

Stanley and Joanne Spooner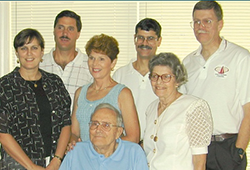 Stanley Spooner loved boating on the York River near the home he shared with his wife, Joanne, and their five children outside Yorktown, Virginia. The river was a happy place, not just for Stanley, but for the entire family-they spent countless days on the water, fishing for rockfish and bluefish.

Helen Spooner Kiser, the Spooners' daughter and Trustee of the family's charitable trust, explains how water quality deteriorated over the years. "When we were children, the waters were pristine. As we got older, we began to find trash and plastic floating in the river. We would collect the garbage we found and take it home with us for disposal. That really affected all of us."

Spurred by their love and concern for the York River and the Chesapeake Bay, the Spooners supported CBF with annual gifts for many years, and they included CBF in their estate plans.

Making a bequest to CBF from their family trust fulfilled a dual purpose-there were significant tax deductions, and their planned gift also provided CBF with substantial support for Bay restoration and preservation.